The SpyderTM - Football Kicking Holder
The first fully collapsible field goal kicking holder. This aerodynamic design is easy to use, allowing proper kicking technique for training. The Spyder Football Holder is also very durable, fun to use and weatherproof. Includes a convenient strap and storage pouch for longevity.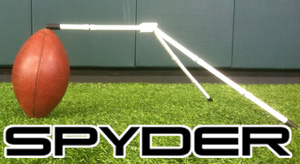 The SpyderTM football kicking holder takes traditional holders to a new level, offering a high-tech option to professional, college and high school kickers and promising to make a difference in the kicking game across the country.

The Spyder football kicking holder:
comes in its own convenient pouch for storage
is fully collapsible
is easy to use
is weatherproof and durable
is stable in up to 30 MPH wind
TSA approved (for travel)
Is fun to use while improving kicking accuracy
The SpyderTM football kicking holder is a holder designed FOR kickers BY kickers!
Spyder Football Holder
$34.95 US

---

| | | |
| --- | --- | --- |
| | -- Bud McLaughlin | |

Doug and Tommy's Frequently Asked Questions: "Does the size of a kicker's foot affect his kicking ability (soccer style)? In other words is there an optimal foot size for kicking a football relative to the size of the football?
Do kickers with smaller feet have an advantage, or is it the other way around?
Am I at a disadvantage with an 11 1/2 foot or not? Can I overcome this, if so, how? Should I switch to toeing the ball?" -- Click here to read our answer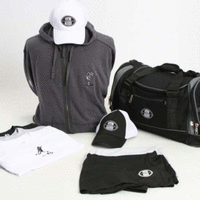 NEW and IMPROVED! - The BEST kicking advice - complete with video instruction, drills and tips, checklists, workout routines, mental relaxation tips, and more -- check out Doug Brien's "Click to Kick" DVD >>>
$39.99