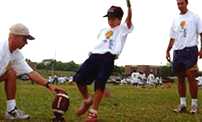 by Doug Brien
My kicking career began my senior year of high school. I played soccer my entire life and planned to play in college. Because my high school team was so successful and my dad thought I might be good, I decided to give kicking a try. In the beginning the only thing I had going for me was a strong leg; my technique and consistency were terrible.
When I moved on to playing at UC Berkeley, I was fortunate to get some good coaching from Steve Mariucci (now head coach of the 49ers) and Gary Zauner (now special teams coach for the Minnesota Vikings). After I learned the proper basic techniques, I could begin the arduous task of transforming myself from a soccer player kicking a football to a real placekicker. It took many years of hard work, but I definitely feel like it all paid off.
The techniques I outline on this site and on my CD-ROM (it goes into a lot more detail) are the basic fundamentals that I feel are important for every kicker to utilize. I learned these techniques over the course of my career and have made them an integral part of the way I kick. There is no one proper kicking style (as many coaches like to tell you); however, these basic fundamentals need to be integrated into your own individual style.
The instructions I give for placekicking on this site are in three parts:
---

| | | |
| --- | --- | --- |
| | -- Kicking.com member who signed with D1 school | |

Doug and Tommy's Frequently Asked Questions: "Dear Doug, I am 15 years old and I was just wondering how you got where you are now. I know the usual, "work real hard, etc." but I don't think that is specific enough. I'm trying to find out if it is more, like do I need to leave high school on scholarship to college...but then what? Where do you go from there? Do you tryout or wait for them to come for you? Is there even a chance of a kicker with a straight-on shoe even having a chance? I also play hockey, but playing hockey in Pennsylvania is not going to get you anywhere far." -- Click here to read our answer

Track your Field Goals, Kickoffs and Punts with the Kick Tracker App!

NEW and IMPROVED! - The BEST kicking advice - complete with video instruction, drills and tips, checklists, workout routines, mental relaxation tips, and more -- check out Doug Brien's "Click to Kick" DVD >>>
$39.99